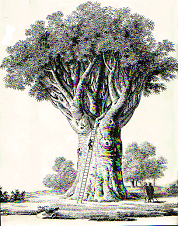 International Tree Society
Welcome!
The intention of the International Tree Society is to foster appreciation, love, and connection with the trees in our environment to the widest possible audience through:
interactive sharing about the environments and ecosystems that we live in
educating people about the importance of trees for all life
celebrating the beauty of trees in our communities through the arts
honoring individuals who do work to sustain the environment
Share a story about a kind of tree you like, or a particular tree that you know and love. Or tell a special story about people and trees.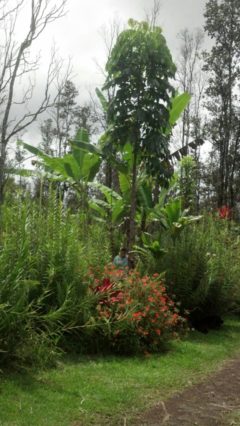 May 29, 2016 In two years this Honduran mahogany will have been in the ground for three years.  Look for me at the bottom.  They do like Puna.  – Paul Armstrong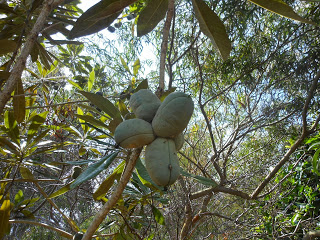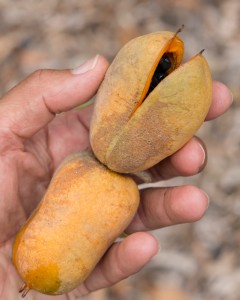 Oct. 1, 2013  I wanted to post a picture of these Ho'awa fruits because it has been a good season for collecting them and they are such a large Hawaiian seed pod. They remind me of walnuts.  Ho'awa grows in the dry forest and wet forest.  -Jill Wagner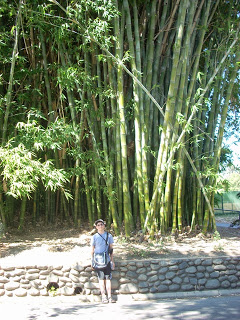 Sept. 29, 2013  This picture is a species of bamboo from the Huntington Library and Botanic Gardens. I chose bamboo because I feel that despite its numerous contributions to society, bamboo is unfairly victimized, with many people even daring to wrongfully dispute the fact that it is a tree, based on ignorant and arrogant notions of what constitutes as such, whether on the frosty taiga or here in sunny Southern California.  – Matthew Ramirez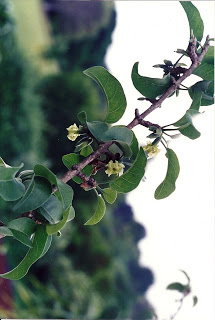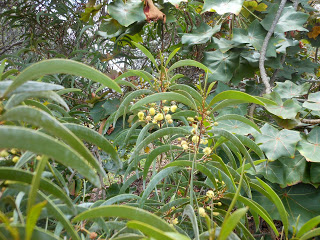 August 30, 2012  This has been a good seed collecting year for some plants like koaia and aiea. If I pay attention to the plants they will give me many gifts.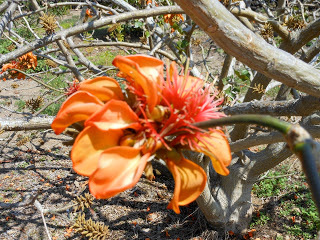 August 30, 2012  These are two Erythrina sandwicensis flowers, the native wili wili. It is wonderful to see the range of flower colors. The wood from this tree is so light and buoyant that Hawaiians made their surf boards out of it. The wood floats. I saw a display of them at the Los Angeles International Airport a few years ago. People today are becoming interested in making surf boards from wood again. They often use balsa wood. – Photos by Jill Wagner and Wilds Brawner.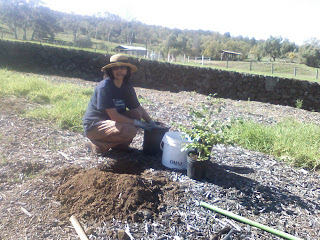 May 2, 2011  Here I am at Pu'u Wa'a Wa'a Ranch planting some trees at the park. It is such a lovely place. Now all the native trees are getting big and I am so happy so see the park come alive.  -Jill Wagner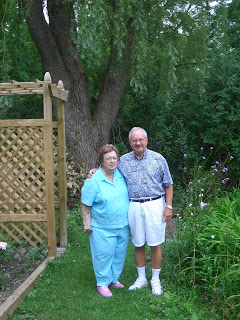 October 21, 2010  I post this in honor of my mother, Mary Kay Freeman, who passed away last month. This is a picture of my Mom & Dad in the summer of 2005 when we were in Michigan to celebrate their 50th wedding anniversary. We took a drive that day to the town of Howell to see the old McCloskey home where my Mom grew up. The current owners of the home were very kind to allow us, and their were quite a lot of us, including my brothers and sister and their families, and a couple of my uncles, to see the place we all remembered so well and had not seen in years, for my brothers and sister of Michigan summers of our youth, for my mother and her brothers of memories so much further back. The great willow tree standing behind my parents stood behind home plate in early childhood baseball games. It watched over numerous family croquet tournaments. It sheltered great family picnics. It was planted on June 18, 1955 on the day of my parents' wedding. It will forever be, in our hearts, our family tree. Some tree's roots grow deep within us, their branches harbor our fondest memories.
– Tim Freeman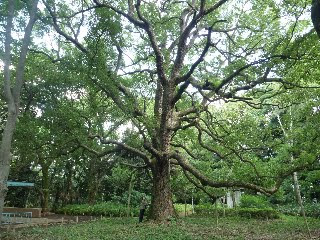 October 2, 2010  Big tree, holding the place for us, helping us always to be grounded and be cleaned.  -Aco Takenaka  -Tokyo, Japan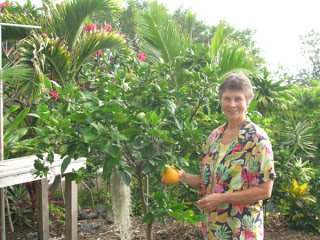 Sept. 17, 2010  This is my tangelo tree and me.  -Judie, Kona, Hawaii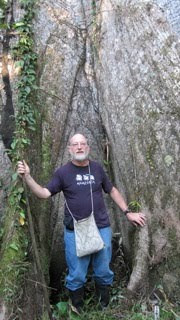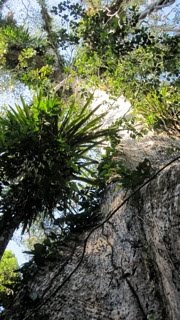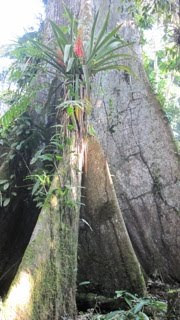 Sept. 1, 2010  Here are a few pix from a beautiful Lupuna tree (Ceiba pentandra) I visited at a place called Isula on the Napo. A really majestic tree!  -Dennis, Iquitos, Peru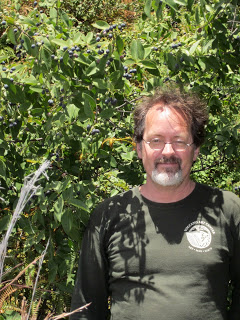 August 27, 2010  This tree is a particularly prolific iliahi (sandalwood). It stands in Volcanoes National Park near the rim of Kilauea only about 3 miles from my house. It is in an area where there is a fairly large stand of koa about midway between the lush ohia-fern forest side of the crater and the barren arid desert Ka'u side of the crater. I chose the tree because it is choke with beautiful berries, because it is a sandalwood tree, and because of you!  -Tim Freeman, Volcano, Hawaii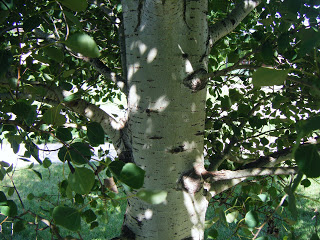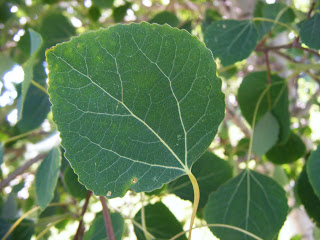 July 9, 2010  Here are a couple pics of the Quaking Aspen Tree. At first glance from a distance appears as a Paper Birch because of the white trunk, but the leaves say different.
Gregory Michael Brewer
Bloomington, IL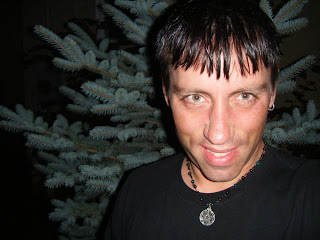 June 29, 2010  This is a photo of myself standing in front of a Blue Spruce which is in my yard. I have several favorite trees, but the Blue Spruce is my favorite above all for many reasons. One reason is that the Blue Spruce, along with all Evergreens, is symbolic of endurance through the hardships of life, as well as the wonderful color that brightens the landscape and brings joy to every yard. My other favorite trees are the Quaking Aspen, Bald Cypress, European Mountain Ash, Japanese Maple, Katsura, and the list goes on.
-Bloomington, IL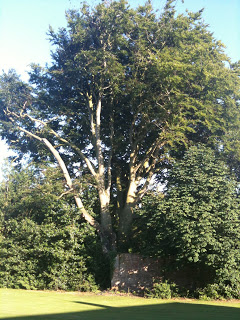 June 29, 2010  I thought you might like a last look at this wonderful beech tree. Although we live in a conservation area our neighbor is having it cut down on Monday, it's a crying shame.  It's situated at Gamston Manor, Gamston Nr Retford Notts. -Regards, Grace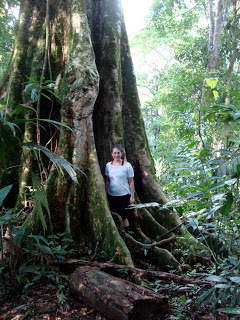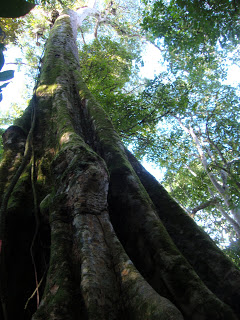 March 6, 2010  This is a great forest tree in Costa Rica.  I was there in Jan. 2010 -Lauren Wagner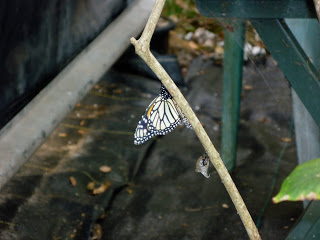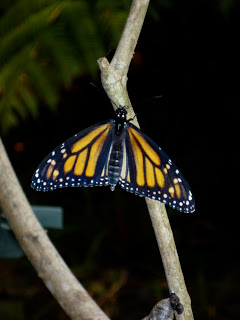 January 9, 2010  This Monarch butterfly hatched out today and I got to see it pumping up it's wings.  -Jill Wagner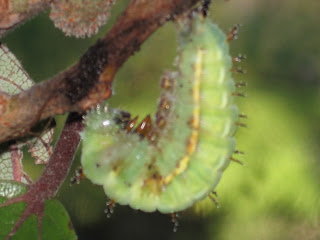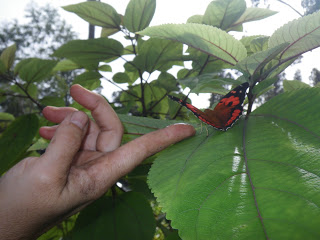 August 23, 2009  I was thinking about how much I love the mamaki tree. Mamaki is Pipturus albidus, the understory Hawaiian tree (it's a small tree), that looks so nice and red in the forest. The leaf veins are red. Mamaki always looks so healthy. I think it is the way the branches come out of the trunk, nice and straight, and the heart-shaped leaves can be quite large. I like the scalloped edges of the leaves too.
I keep my eyes peeled for butterflies and caterpillars. Mamaki is the food plant for the Kamehameha butterfly. The caterpillar takes the leaf edge and folds it over on itself like a blanket. Then it sews up the sides so it is inside in a cozy pack. I look for the folded leaves so I can take those babies home and feed them my mamaki. Then I have the great blessing of being able to see and even hand feed the butterfly. – Jill Wagner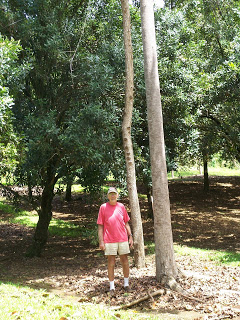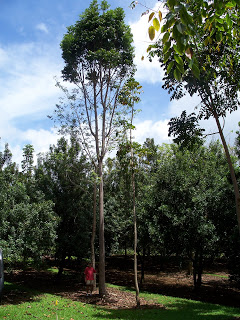 June 2, 2009  Here I am standing next to my three year old Honduran mahogany trees. They are very tall and have a nice form. -Dave Boots, Hawaii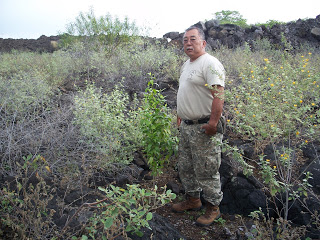 June 2, 2009  Hale Hamada with the native plants at the Kaloko-Honokohau National Park.
Kona, Hawaii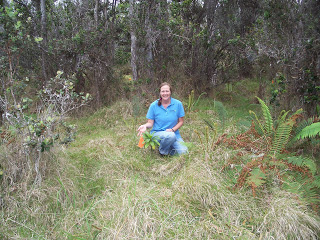 February 16, 2009   Here I am next to a Hawaiian Clermontia that was planted in the understory of a Hawaiian forest in 2008. It is a beautiful little tree that has become rare. I'm happy to see it doing so well!  -Laura Nelson, Honomolino, Hawaii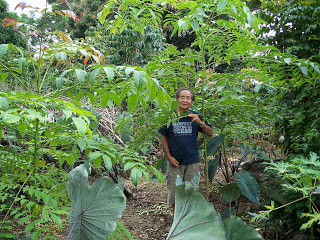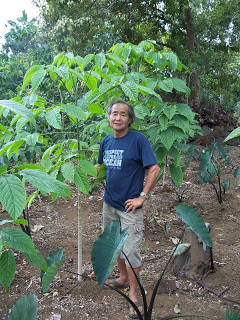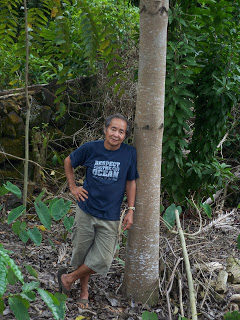 January 28, 2009  There are three different tree species that I am standing by. The two young ones are old year old primavera and pink cedar. The big one is African mahogany. They are all beautiful trees.  -John Kunitake -Holualoa, Hawaii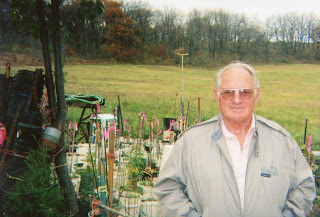 January 27, 2009  George Darrell- Illinois   This is my nursery site where I grow trees and plant them in my local area. I grow walnut, oak, maple, linden, catalpa, and locust.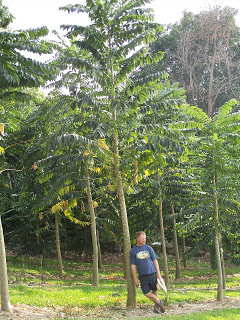 January 24, 2009  My earliest memory of trees is as a five or six year old boy, playing in and among the Live Oak trees growing on ranch land above the Almaden Valley of California. Ever since, no matter where I am, my gaze always drifts skyward, in wonder and awe that the trees inspire in me.
Presently I find myself in Hawaii, on the verdant slopes of Hualalai volcano. I am the caretaker of this small grove of Cedrela odorata, commonly known as Spanish Cedar. Something of a misnomer, since they are neither cedar nor Spanish. You might know them as the "cigar box" tree. The name gives it away, as the wood is very pungent. I planted them from seedlings about two years ago, and it has been very satisfying watching them rocket up; playing host, first to insects, and now to birds and their nests. How wonderful!  -Bob Trubel, Holualoa, Hawaii
January 22, 2009  This photo was taken in the Tantalus Rainforest high above Honolulu.  -Elena Polevik, Oahu
I often run a 20 mile loop on the Tantulus Trail system in the rainforest above Honolulu. It encompases Nuuanu, Makiki, and Manoa valleys. I have many favorite trees that I encounter along the way. Here are a few of them.
Perhaps my favorite of them all, is this tree that is located on Nuuanu ridge. It stands in the center of the trail, with steep cliffs on either side saying, "I own this trail. If you want to get by, you're going to have to go around me."
The Cooke Pine Forest located in Nuuanu Valley is wonderful to run through. I love the lines that these trees create. And its always cool and airy. The needles create a carpet on the ground that is soft and cushiony to run on.
The Koa Tree is located on the Kalawahine Trail above Pahoa Flats, in the area between Nuuanu and Makiki Valleys. It is not very large, but it is sure beautiful. It is often very windy in this area, which is likely why it felt the need to stay low and spread out wide.
It rains a lot in Manoa Valley, creating lush, green moss covered forest. I just love running through this forest on the way to Manoa Falls.
David Carlsson, Oahu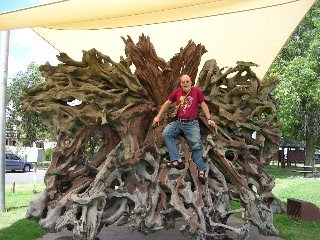 January 18, 2009  The Phoenix Tree
Located adjacent the Great Alpine Road at the Wangaratta end of town, the Phoenix tree is a massive sculpture carved out of the truck and roots of a red gum by noted sculptor Hans Knorr. A signboard explains its significance as a tribute to the town. See http://www.walkabout.com.au/locations/VICMyrtleford.shtml for details.  Australia -Dennis McKenna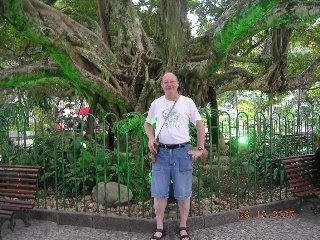 January 18, 2009  This is the banyan tree in the main plaza in Florianopolis, Santa Catarina Island, Brazil, 2008. – Dennis McKenna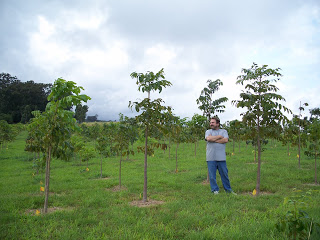 January 2, 2009  These are one year old mahogany trees growing on the Hamakua coast, Hawaii Island. Dave Harbour has really mastered the methods for growing these trees. They are very happy!   -Dave Harbour, Hawaii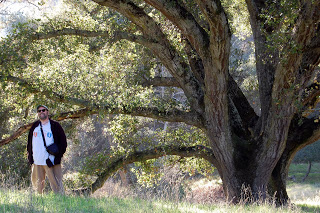 January, 2, 2009  This is a Coast Live Oak growing in the Sunol Regional Preserve, Sunol, California. The tree was probably growing in this location before the U.S. Constitution was penned to paper. It grows at the confluence of two streams and is surrounded by ancient Ohlone Indian acorn grinding stones. The Ohlone would collect Blue Oak Acorn from the surrounding hill then sit in this area grinding the acorns into meal. The meal would be placed in fiber bags and hung in the rushing stream water to leach out the tannin. Acorns were an important food source before the Spanish settlement of California.
The Live Oak is about 20 miles inland from San Francisco Bay. The area has about 400 frost free days per year with winter lows usually around 26 degrees Fahrenheit. The climate is Mediterranean with about 25 inches of rain per year mostly falling between November and March. This photo was taken January 1st, 2009 on my annual New Years pilgrimage to visit this spot.  -Bill Merrill, California
December 4, 2008  This is a prickly palm in the Manuel Antonio forest, Costa Rica.  -Kyle Fishman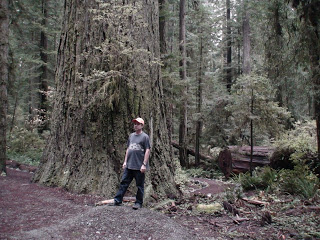 December 4, 2008  That was a monster of a tree, probably 750-1000 years old, about 350 feet tall. The outside bark is dead and on the larger redwoods can be up to 13 inches thick.  Redwood National Park, California,  -Ed Einwich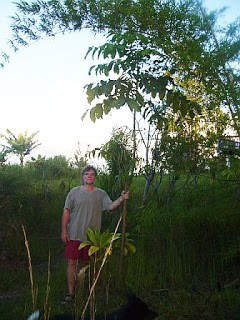 Saturday, October 11, 2008  Here is a photo of me with a three year old mahogany growing under one of my bamboos in Papa'aloa, 12 feet tall. aloha, -Bob Bowman, Papa'aloa, Hawaii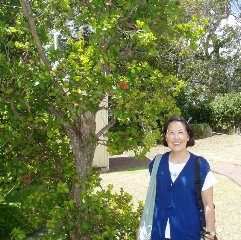 Sunday, September 21,2008  Here I am with my favorite kind of tree, the ohia-lehua tree. This picture was taken on 9-20-08 in Waimea.  -Mary Beth Jiko Oshima Nakade, Waimea, Hawaii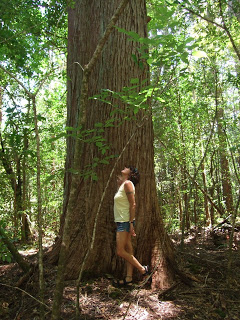 Thursday, August 14, 2008  Here is a picture of me with a magnificent tree at the Kalopa Natural Reserve, Hawaii Island.  -Marijke Wilhelmus, Bonaire (Netherlands, Antilles)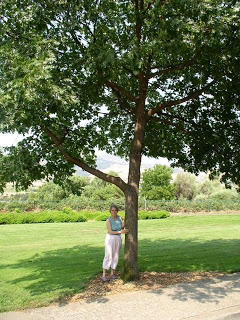 Tuesday, August 5, 2008  This lovely oak tree lives at the edge of a small park in Ashland; on one long side is a street, on the opposite side is a bike path, and beyond that, railroad tracks. I pass this tree every day to and from my art studio and love to pause under its branches and say hello. Often on a hot day (of which we have many in the summer) and whenever I am tired, I lie on the grass and watch the leaves dance in the breezed above and feel the cool grass on my arms and legs and am happy to be with them. They nourish me, restore my energy, help me rest deeply. They are the fingers pointing at the moon, or maybe the moon itself.
Best to you, -Shoshanah, Ashland, California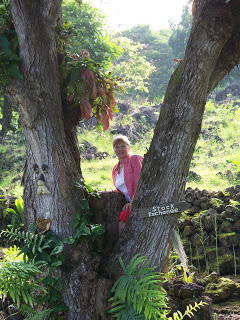 Saturday, July 26, 2008  This is my mango tree. With many other plants such as orchids and ferns growing with it. It is an old man now. Notice it's face on the left side!  -Mary Lou Moss, Holualoa, Hawaii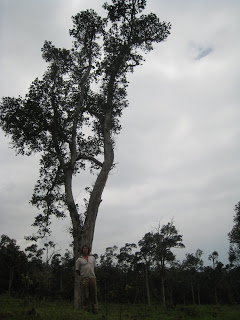 Friday, July 25, 2008  The Ohia is one of the most plentiful trees of our cloud forest it provides shade for under story, shelter to native birds..its one of the first things to take root in lava fields beginning the process of building soil..wether its used in railings or head boards its grains always provide something fine to admire..when clouds collide with our mountain swallowing the Ohias in its mists time itself vanishes..to see a mounted knight or T Rex glide through the Ohias would be no surprise..this photo was taken at 2600 ft. on the west flank of Hualalai volcano.  -Larry Ellington, Hualalai Mountain, Hawaii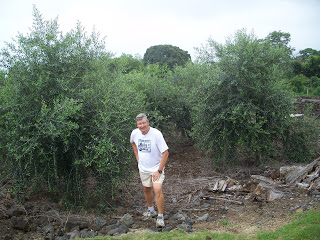 Wednesday, July 23, 2008  The olives are really looking good! But they are apparently rare in Hawaii. Who knows if they will actually fruit? But who doesn't love an olive tree?!  -Doug Troxel, Holualoa, Hawaii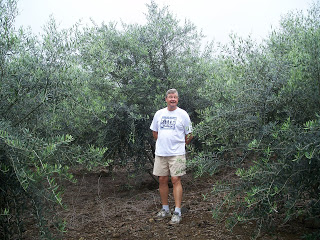 These are my two year old olive trees (planted in 2006) and they are really thriving in Holualoa, Hawaii. I'm enjoying them and look forward to flowers and fruits! -Doug Troxel, Holualoa, Hawaii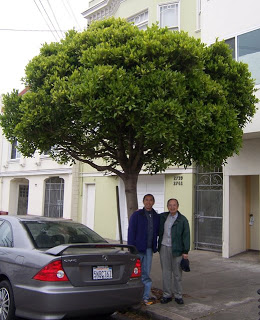 Monday, July 21, 2008  I just took this photo with my dad this morning. Here it is, we planted this tree over 15 years ago. It was just a 4ft. sprout and now its the biggest tree on the block in San Francisco. -Arnie Wong, San Francisco, California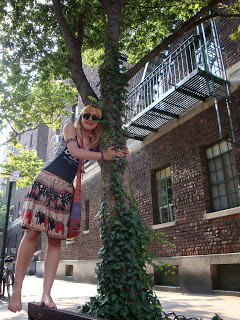 Sunday, July 13, 2008  Luciana Guimaraes by her favorite tree.  New York, NY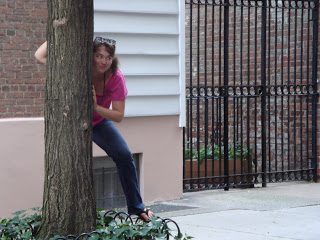 Thursday, July 10, 2008  Lauren beside a tree in the West Village, New York.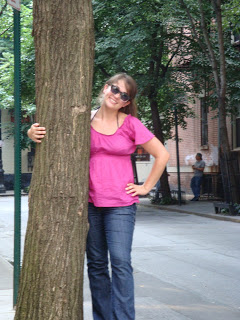 Nothing beats a tree-lined block in NYC. In fact, that is probably something that makes a good neighborhood, a great one. As much as New Yorkers love the fast paced life of a metropolis, almost everyone finds a bit of peace in the nature that is scattered and tucked in between the concrete landscape. Not to mention, we have one of the most famous parks in the world, Central Park! However, I live in the West Village and the trees that line the blocks of this quaint neighborhood are definitely my favorite. They are the trees that seem to always be there for you to lean on.. shading my summer days.  -Lauren M. W.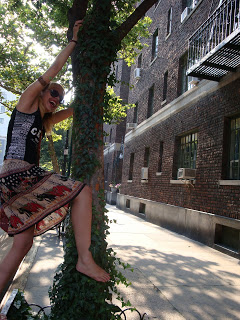 This tree, which is in the corner of Bedford and Barrow St. in NYC, is my favorite tree because it stands in a nice and calm area where the sun hits the dangling leaves of this exotic part of nature in such a big city full of buildings and cars. I also like how its trunk is covered with crawling ivy, which is not so common around the area and that's exactly why it called my attention when I first saw it. I also like how it's so comfortable to climb, which is something I've been enjoying to do since I was a little kid. Although anybody would think someone who lives in New York City wouldn't care about nature, trees are considered a really important part of our urban life.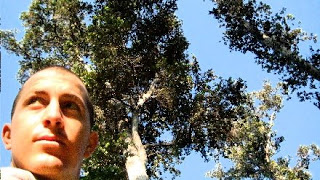 Friday, July 4, 2008  Here is Max with the Hawaiian ohia trees.  -John Maxwell, Kaloko, Hawaii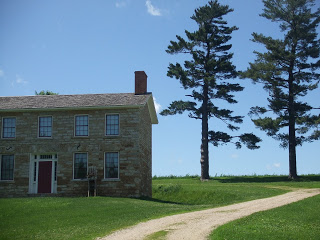 Tuesday, July 1, 2008  175 year old white pines (full view) next to a 175 year old restored building.  -Jenkinsville, Wisconsin.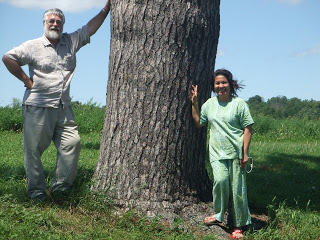 Mark and Noemi Medler next to a white pine, 175 years old. -Mark and Noemi Medler, Jenkinsville, Wisconsin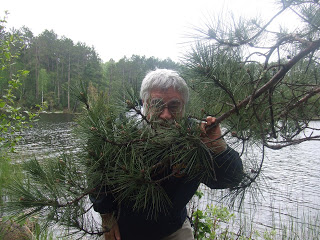 Katherine Medler discovered a bear amongst the trees.  -Half Moon Bay, Minnesota
Katherine Medler wondering which pine she is standing by.  -Katherine Medler, Half Moon Bay, Minnesota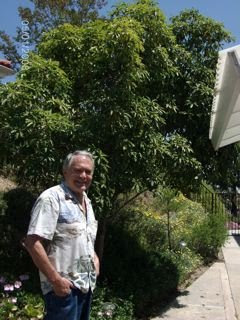 Saturday, June 28, 2008  Here is Sy Cohn with a Victoria box tree in Claremont, California.  -Sy Cohn, Claremont, California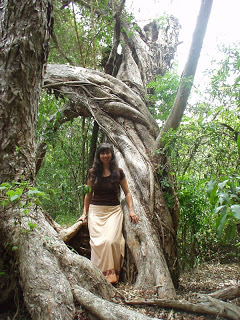 Here I am sitting with an old koa tree in Volcano, Hawaii. This tree is very special to me. I was walking it in a forest of manele, ohia and koa trees. When I came upon it I couldn't believe how large it was tucked in among some big trees. And it has a strange curve. It seemed to ask people to sit in it's lap and tell stories.  -Jill Wagner, Volcano, Hawaii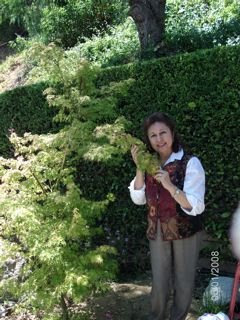 Friday, May 28, 2008  Maria Andrade with a Japanese Maple tree in Claremont, California. What a beauty!  -Maria Andrade, Claremont, California